Mental illness affects people of all ages and from all walks of life. Most individuals find ways to live with their illnesses, but how they are treated by others often proves to be more of a challenge than the illness itself. Stigma and discrimination are key barriers that stop people from seeking help.
Recognizing that simply talking makes a significant impact in breaking down the barriers to mental health, Bell Let's Talk encourages people to join the conversation about mental health and engage in dialogue with friends, family and co-workers.
Join CMHA Sault Ste. Marie as we host the following events on January 31:
5th Annual Bell Let's Talk Community Event at Sault College – Let's Start Talking! Speakers and refreshments in the Common Link – 11:30 am
Bell Let's Talk Community Event at Algoma University Speak Easy – 2:00 pm
Hope House Club 84 Bell Let's Talk Night, 386 Queen Street East – 6:00 pm
Bell Let's Talk Game Night with the Greyhounds at the Essar Centre – 7pm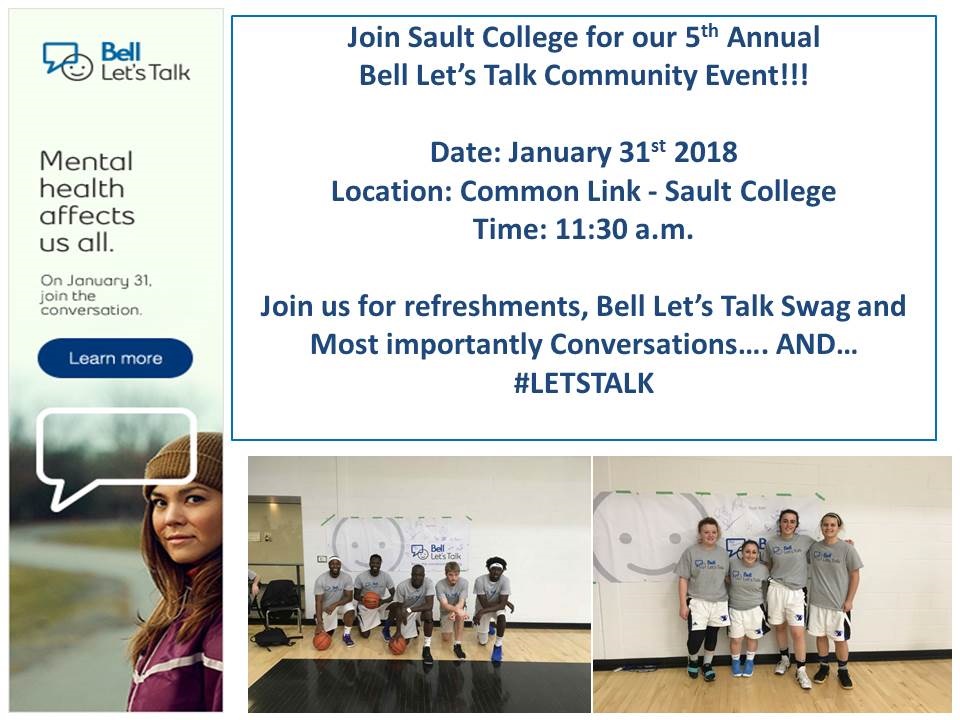 Bell Let's Talk Day is January 31
Bell will donate 5 cents to Canadian mental health programs for each of these interactions on January 31, at no extra cost to participants:
Text and talk: Every text message, mobile and long distance call made by Bell customers
Twitter: Every tweet using #BellLetsTalk and Bell Let's Talk Day video view
Facebook: Every view of the Bell Let's Talk Day video at com/BellLetsTalk and use of the Bell Let's Talk frame
Instagram: Every Bell Let's Talk Day video view
Snapchat: Every use of the Bell Let's Talk filter and video view
The Bell Let's Talk initiative promotes Canadian mental health with national awareness and anti-stigma campaigns like Bell Let's Talk Day, and provides significant Bell funding of mental health care and access, research andworkplace initiatives. To learn more, please visit Bell.ca/LetsTalk.
About CMHA Sault Ste. Marie
CMHA Sault Ste. Marie offers a number of services and supports to the community that empower individuals, groups and communities to define, achieve and maintain a mental, physical, emotional and spiritual balance. Whether individuals are experiencing a mental illness, have a family member or friend with mental illness, are a health care provider, an employer, or are seeking information, CMHA Sault Ste. Marie is available to help. CMHA Sault Ste. Marie is incorporated and is governed by a volunteer Board of Directors. Funding for the programs and services is from many services is from many services, including the Northeast LHIN, the United Way, grants and donations.  For more information please visit http://ssm-algoma.cmha.ca/
Media Contact:
Lisa Carricato, Mental Health Educator
Canadian Mental Health Association, Sault Ste. Marie
705-759-0458 ext. 231
lisa@cmhassm.com